After a warm welcome by general director Harry Tupan of the Drents Museum in Assen, three of the four match players, Peter Svidler, Sam Shankland, Jorden van Foreest, as well as tournament director Loek van Wely, took turns to play each other in blitz games while pedalling on home trainers. This is a popular occupation with chess grandmasters as it enables them to engage in 'trash talk' while making their moves. So it wasn't easy to get them away from the chess bikes. In the meantime, Hans Böhm was playing blitz games with Ugandese actress Chirstine Namaganda (who plays the main protagonist Fiona's opponent in the movie 'Queen of Katwe'), and Vladimir Fedoseev was taking on all comers. He was surprisingly tricked by a veteran player from Assen, Tinus Spriensma, but got his revenge in the return game.
After this, the match players, Christine Nagamanda, and Van Wely went downstairs for a photoshoot at the exhibition Iran – cradle of civilisation, which is running until 18 november. Tupan told us that this exhibition has attracted around 100,000 visitors so far, and the museum attracts in general 200,000 visitors every year, which is quite a feat for a city of less than 70,000 inhabitants!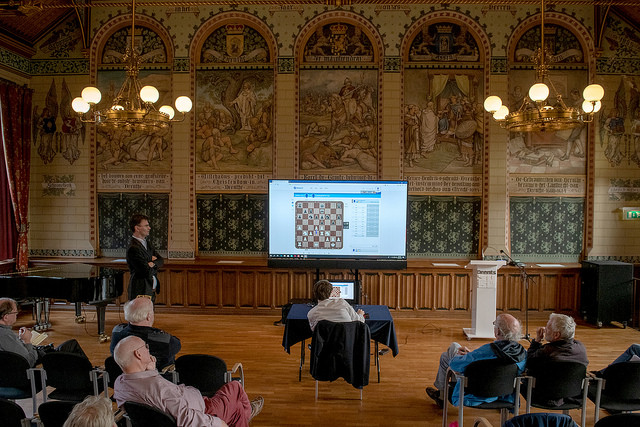 In the impressive 'Statenzaal', a laptop and a big screen had been installed, surrounded by wonderful tapestries depicting historical scenery, for the Internet rapid match between Jorden van Foreest and 18-year-old World Junior Champion Parham Maghsoodloo, who lives in Iran – the country of the exhibition in the Drents Museum. Jorden plays under the name Jorden, whereas Maghsoodloo uses the more imaginative grizzlybear79. Van Wely gave live comments, which were instructive and – more often!? – hilarious.
In the first game, Jorden continued to show his good endgame skills (as we have seen in his match with Fedoseev). As White in a quiet Italian he doubled his opponent's e-pawns and took charge in a four knights endgame. But it became tricky, and the Iranian GM cleverly saved the draw.
Van Wely immediately received the message from Iran that Maghsoodloo 'agreed that he had had a lucky escape'.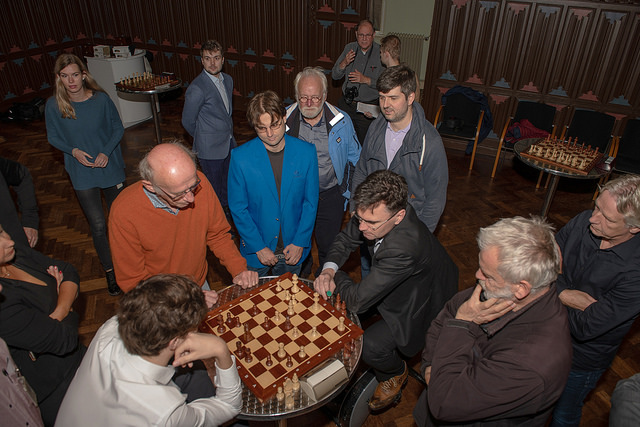 In the second game, with black, Jorden played a specialty, the Ruy Lopez with 3...g6. Van Wely was a bit skeptic about the Dutchman's provocative play. Soon the position was brimming with tactical tricks. Jorden lost a pawn, but had interesting compensation for it. While it looked as if White didn't have a good plan, Van Foreest started wavering in approaching time-trouble, lost a second pawn, and had to resign in the end.
It was a wonderful visit for the players to this beautiful museum in the capital of the province of Drenthe!