Jorden van Foreest

Photo: Lennart Ootes
Born: April 30, 1999 in Utrecht.
FIDE Rating: 2600 (Augustus 2017)
Previous editions: Match 2016 (2.5 - 3.5 lost vs Ivan Sokolov); Match 2015 (2.5 - 3.5) lost vs Jan Timman; Open 2013 (5.5/9); Open 2012 (5/9); Open 2011 (4/9); Open 2010 (4/9);  
Jorden is still the flag-bearer of the well-known Dutch chess family Van Foreest, although he is now starting to feel his younger brother Lucas breathing down his neck. Jorden became European youth champion in 2013, and he was already a grandmaster in 2015. The 2nd great-grandson of former Dutch champions Dirk and Arnold van Foreest (both won the title three times – something which Jorden hasn't achieved yet!) narrowly lost to the former world top player Jan Timman in 2015, and next year he lost the match with Ivan Sokolov 3½-2½ as well. In the strong Reykjavik Open in 2017 he did well taking second place behind Anish Giri, but in this year's Dutch Championship he lost the title he had won so surprisingly in 2016. Jorden van Foreest is 8th on the world junior rankings at the moment. But he still has to make the final jump to the top. Perhaps he can take a big step in Hoogeveen this year?
Adhiban Baskaran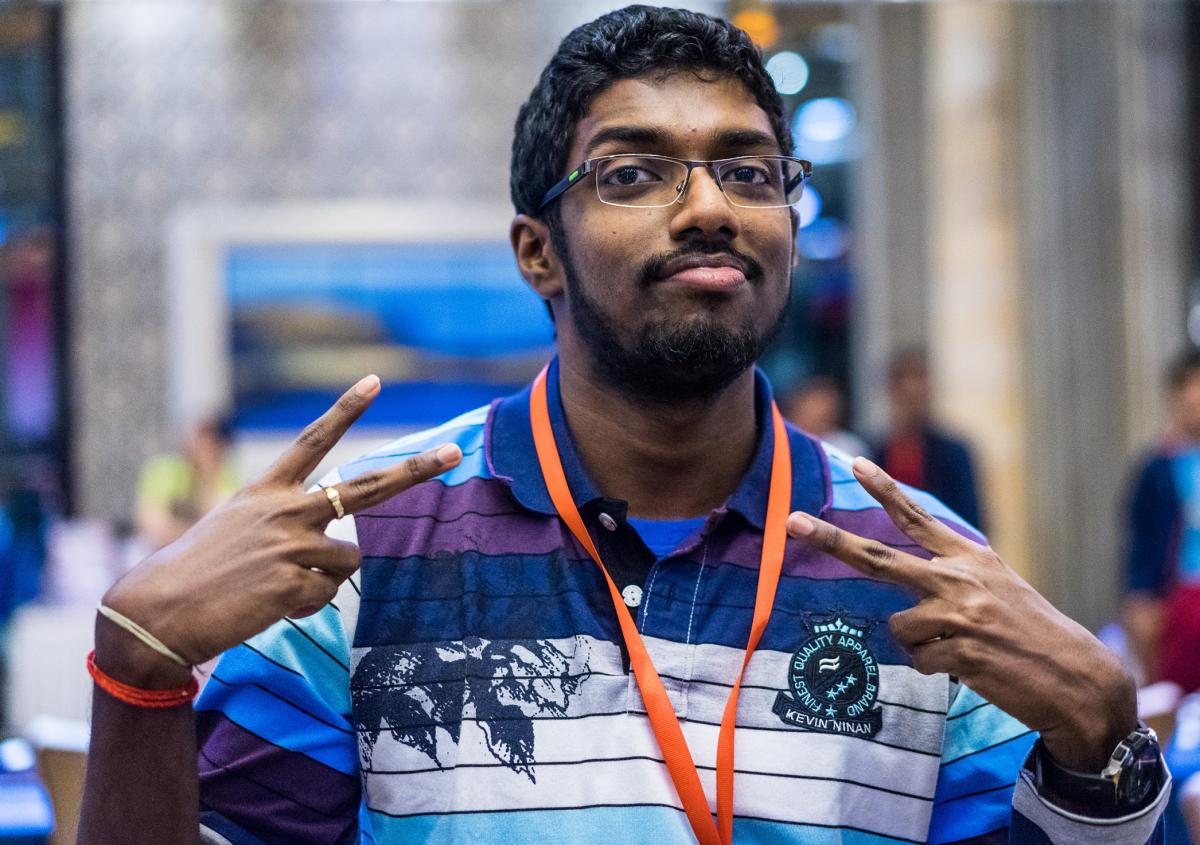 Photo: Lennart Ootes
Born: Augustus 15, 1992 in Mayiladuthurai, India
FIDE rating: 2677 (Augustus 2017)
Previous editions: -
Adhiban (this is what he prefers to be called) is also a former World Junior Champion: the Indian gained the under-16 title in 2008. In the following year he already became champion of his country, where competition is not exacty weak. Like many of his compatriots, Adhiban steeled his chess muscles in open tournaments. He won the Sants Open in Barcelona in 2013 and the Biel Masters in 2014, and shared first prize with Eltaj Safarli and Alexei Dreev in the Challengers' Group of the Tata Steel tournament in 2016. Of them, Adhiban was the one who entered the Walhalla of chess, the Masters group, in 2017, where after a hesitant start he surprised friend and foe by claiming third place among the elite players of the world. The 25-year-old Indian is popular not only due to his daring tactical playing style, but also due to the enormous pleasure in the game (and in life!) he radiates. We are bound to witness a great spectacle in his match-up with Jorden van Foreest.
Wei Yi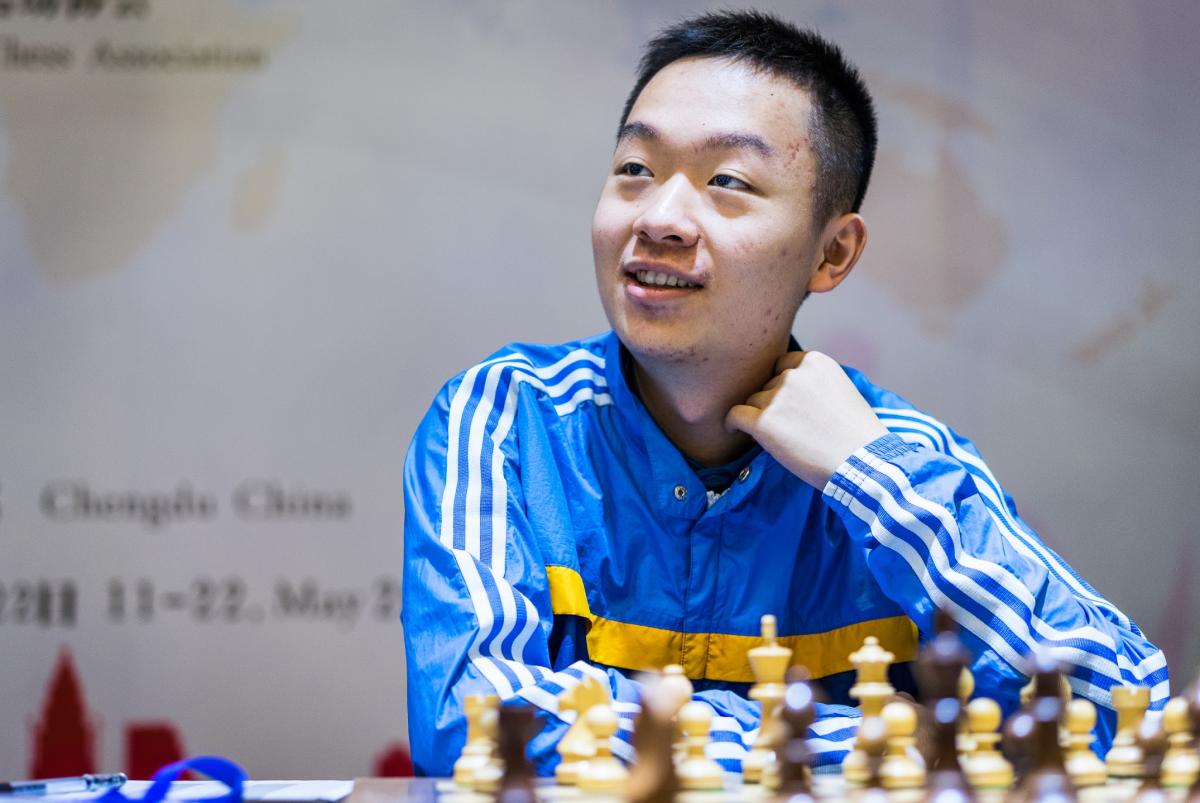 Photo: Lennart Ootes
Bor: June 2, 1999 in Yancheng, China
FIDE rating: 2753 (Augustus 2017)
Previous editions: -
Wei Yi is from the same year as Jorden van Foreest, but the former Chinese prodigy has been the proud leader on the world junior ranking list for some time, and for several years he has been regarded as Magnus Carlsen's possible successor. At the moment he has a 1-3 score against the World Champion, but the future is Wei Yi's! At 12 he became a grandmaster, and at 14 he was the youngest player in history who passed the 2600 Elo rating border. He won the Challengers' Group in Wijk aan Zee with 10½ out of 13 in 2015, and has been a regular customer in the Masters group since then. Wei Yi is already very strong technically, but he created a furore in 2015 with a brilliant attacking game against Lazaro Bruzon Batista that is now considered a classic. The 18-year-old top player is quiet and modest in his demeanour, but it will be exciting to see him at the board in Hoogeveen.
Vasily Ivanchuk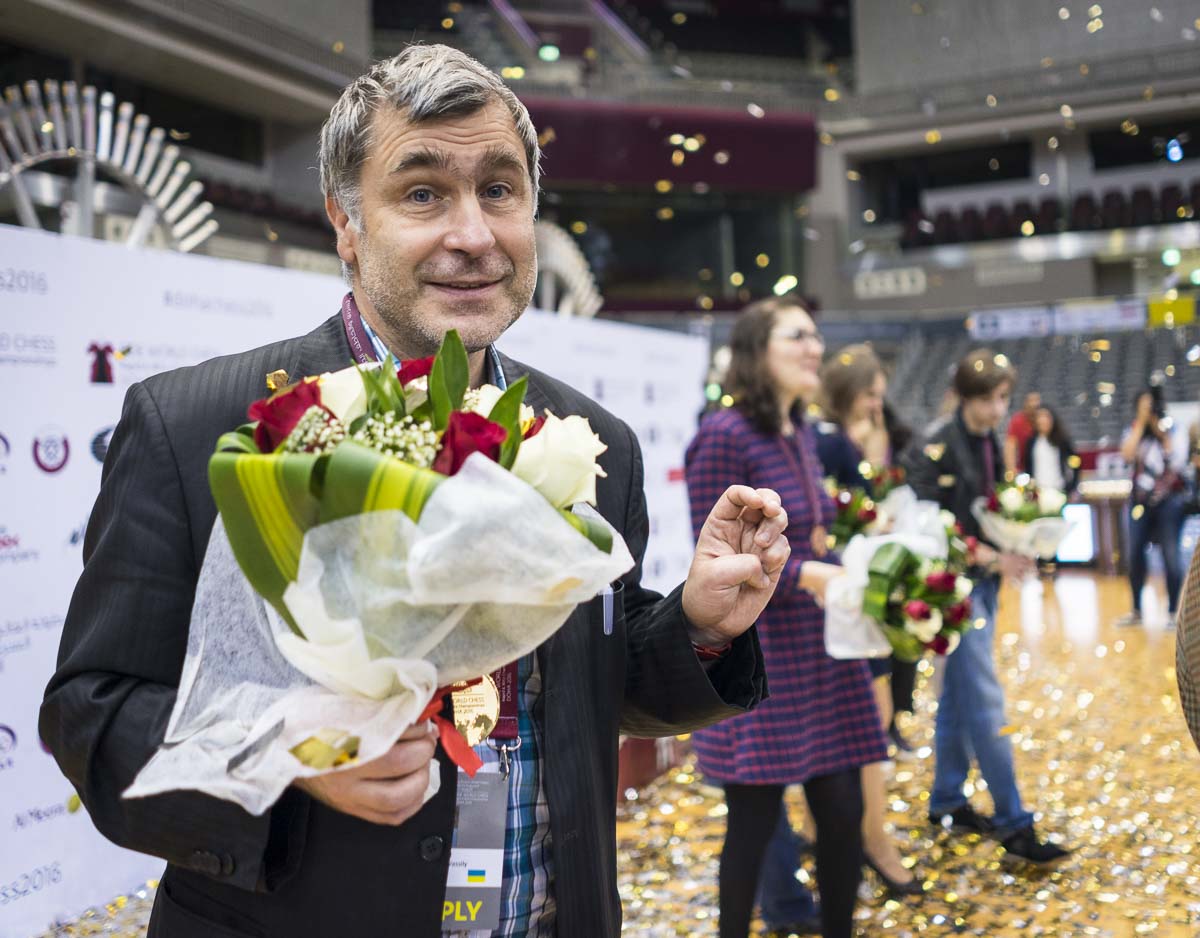 Photo: Lennart Ootes
Born: March 18, 1969 in Kopychyntsi, Ukraine
FIDE rating: 2728 (Augustus 2017)
Previous editions: Crowne group 2009 (3/6)
A genius, inimitable, and extremely popular. We could give countless descriptions of the illustrious Ukrainian, who has belonged to the world top since 1988. His brilliant discoveries on the board coincide with erratic, though never unpleasant, behaviour. His list of tournament wins is endless. He beat Jan Timman in a match in 1991, when the latter was at the height of his powers. In the same year Ivanchuk won the top tournament in Linares. He reached the final of the 2002 World Championship KO matches, where he lost to Ruslan Ponomariov. Also in non-classical chess Ivanchuk is fantastic: he became Blitz World Champion in 2007, and only last year became Rapid World Champion in Doha. It says a lot about Ivanchuk that he was playing draughts with Baadur Jobava during the prizegiving, and was too late to jump on the stage. It also says something that this didn't irritate Magnus Carlsen, who took the bronze medal, but made him laugh.